1. Light effect of LED device ηL, unit lm / w
The LED device light efficiency refers to the ratio of the radiated light energy converted into output (visible light) per watt of electric power per watt at a specified junction temperature (for example, Tj = 25 ° C). The LED light effect can be expressed by the following formula: ηLED = Φ / w, unit: lm / w
The necessary condition is that Tj is a specified value. At the same power, at different Tj temperatures, the luminous flux Φ output by the LED is different. As the temperature increases, Φ will decrease. The U.S. Department of Energy 's Western Pacific Northwest National Laboratory gave a white light power LED PN junction temperature Tj for every 1 ° C increase in output flux decreased by 0.25%. (When Tj = 25 ℃, Φ = 100lm, when Tj = 80 ℃, Φ = (1-13.75%) & TImes; 100 = 86.25lm, decrease by about 13.75%, and the luminous flux temperature coefficient of high power white LED :? Φ /? Tj≈-0.25 (lm / ℃))
Most of the device luminous fluxes given by LED manufacturers are the values ​​when Tj = 25 ℃. The same is true for the light effects given. In actual use, Tj is generally not equal to 25 ℃.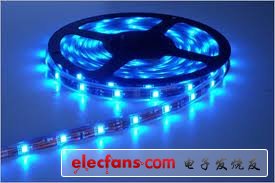 2. Light effect of LED lamps ηTub1 (lm / w)
LED lamps refer to lighting lamps that use LEDs as light sources. Any lamp generally includes: light source (bulb or module); ballast or drive power module; light pipe light distribution lens (or reflective cavity, etc.); heat dissipation device or lamp housing and other four parts. In addition to the light source, the four parts all contribute to the light efficiency of the lamp, and all of them are negative contributions! Each is explained below:
(1) LED device and light source module light efficiency ηLED
ηLED is generally based on the luminous efficiency given by the LED device factory. For example, when the luminous efficiency of an LED is Tj = 25 ℃, it is assumed to be 100lm / w. The superposition law can be obtained as 100lm / w & TImes; 100 = 10000lm, but the light effect is still 100lm / w; but it is not equal to the light effect of the lamp.
(Assume here 100 light sources of 100lm / w plus 100w electric power, the total luminous flux it emits should be 10000lm).
(2) The effect of power supply efficiency on the light efficiency of lamps (contribution)
When the electric power supplied to the LED light source module is 100w, due to the switching power supply or AC / DC current source that drives the LED, it consumes electric power itself, that is, the input electric power is higher than that used for the LED light source module. The ratio of the two is called power efficiency. Assuming this efficiency ηE = 85%, the input electric power of the lamp is:
Pin = PLED / 0.85 = 117.65w
When the light efficiency at this time is included in the conversion efficiency of the driving power supply, the light efficiency drops from 100lm / w to 10000lm / 117.65w≈85lm / w. Decrease: 15%, this decrease is a negative contribution made by the power drive circuit.
(3) Influence of secondary light distribution optical efficiency ηLight
General lighting fixtures, especially narrow-beam light sources such as LEDs, require secondary optical design to meet the required light distribution requirements for light distribution. For example, LED spotlights require a cut-off bat-wing light distribution, usually an oval lens is added to each LED, which will cause the loss of light energy due to the lens, so there is a problem of the optical efficiency of the lamp The light transmittance of the grade lens does not exceed 0.9, that is ηLight≈0.9.
That is to say, a 10000lm light source without a lens will become a light source with an output of 9000lm after the lens is added, and about 10% of the light energy is lost. 3) = 0.85 & TImes; 0.9 = 0.765
In other words, the light source of 100lm / w is now only 76.5lm / w. Both have a negative contribution of 23.5%.
China Electric Water Boiler Urn Suppliers
Here you can find the related products in Electric Water Boiler Urn , we are professional manufacturer of Electric Water Boiler Urn, Hot Water Urn ,Electric Hot Water Dispenser, Large Water Boiler ,Big Water Boiler with Reservoir and Taps,Commercial Electric Water Boiler Urn,We focused on international export product development, production and sales. We have improved quality control processes of Commercial Electric Water Boiler Urn to ensure each export qualified product.
If you want to know more about the products in Commercial Electric Water Boiler Urn, please click the product details to view parameters, models, pictures, prices and other information about Electric Water Boiler Urn,portable hot water dispenser,hot water dispenser for tea,hot water urn shabbat, tea boiler,Folding Travel Water Kettle,folded silicon Water Bottle Mini Folding outdoor tea Kettle.
Whatever you are a group or individual, we will do our best to provide you with accurate and comprehensive message about Commercial Electric Water Boiler Urn!
Commercial Electric Water Boiler Urn
Electric Water Boiler Urn,Hot Water Urn,Electric Hot Water Dispenser,Large Water Boiler,Big Water Boiler with Reservoir and Taps,Commercial Electric Water Boiler Urn
FOSHAN FORTUNE ELECTRICAL APPLIANCE CO.,LTD , https://www.coffelady.com