Everlight exhibited a variety of components at the 2015 Shanghai Electronics Show for lighting, infrared, automotive and backlight applications.
The global LED optoelectronic industry leading manufacturer, Yiguang Electronics Co., Ltd. [TSE: 2393] exhibited a variety of different applications at the Shanghai Electronics Show, including high-efficiency lighting, infrared and automotive products, which are attracting attention this year. It can meet customers' expectations for high quality products and provide one-stop comprehensive solutions to provide the most complete service.
Ultra-high light efficiency 5630D series light efficiency up to 200lm / W or more
Due to the stringent demand for light efficiency in the market, Everlight has launched ultra-efficient series this year. Among them, the 5630KK5D high-efficiency series is the most prominent. It adopts high reflectivity and high-life plastics and improved bracket optical structure, and the luminous efficiency can be increased to 200lm/W. Above (5000K color temperature), it meets the application requirements of commercial lighting tubes with high luminous efficiency, and the whole lamps are more energy-saving. COB series wattage complete (2-50W) in addition to high efficiency, more flexible and easy to install, M08 (1204) and M09 (1208) series of high thermal conductivity mirror surface aluminum substrate design, effectively solve heat dissipation problems, can maintain lamps Stability, Yiguang COB has completed the LM80 lumen maintenance test, and has complete locking brackets, reflectors and other accessories, regardless of stability, efficiency or cost-effective is the industry's crown, is the best choice for directional lighting applications.
Plant illumination source effectively replaces light and controls plant growth rate
This year, Yiguang has also made breakthroughs in special application plant lighting technology. In the general plant absorption section, the wavelength of 430nm / 660nm / 730nm can most maximize the growth of roots, stems and leaves of plants. W / 0.5W 2835, 1W ceramic 3535 and other three packages are implemented in the above three bands, and use special packaging materials to protect part of the violet (UV) impact in short-wave blue light, LED lighting technology to replace light, control plant growth rate In other ways, the real high-quality plant lighting package has achieved good results since the first season of promotion, and the market acceptance has been significantly improved.
Wide range of infrared applications
Everlight's infrared applications are very diverse and complete, and the Infrared LED and Photo Transistor/Photo Diode components for transmission and reception are suitable for many applications, including oximeters, sweeping robots and meter applications. IRR60-48C/TR8, with red wavelength 660nm and infrared wavelength 905nm, combined with high-speed and high-sensitivity PIN photodiode, is suitable for applications with extremely high requirements for inductive detection, such as oximeter, to provide the most accurate diagnosis. The sweeping robot uses IR/PT and IRM to achieve anti-collision, fall, remote control, positioning and other functions. Yiguang IR-333H0/L10 is paired with PT2559-6B with an angle of 40 degrees, and IR67-21C/L261/S65/TR8 is paired with PT67. -21/L606/TR8 is super wide angle 120 degrees, the illumination angle will mainly affect the design of the receiving end. The general demand is about 30 degrees, but Yiguang also provides wide angle 120 degree IR/PT for selection. IRM (infrared receiver) has IRM. -56384, IRM-3638J2, IRM3638T, IRM-3638C2, customers can choose according to different communication protocols and anti-interference ability. At the same time, in view of the increase in global electricity demand and the proportion of renewable energy, and the need to replace old power facilities, the demand for smart meters has greatly increased, and Yiguang has displayed at the booth.
The meter application, a list of IR, IRM and optocoupler components, welcome to watch the experience.
High-efficiency and high-quality automotive LED
This year, Yiguang has introduced a variety of high-performance products in the application of automotive lights. In the front of headlights, it has introduced high-power LED headlights, from single crystal, double crystal, triple crystal, four crystal, to five crystal series. The package provides a single headlight component package and module package application design to meet the flexible application of customers. Through the integration of optical, electrical and heat flow technologies, Yiguang controls the polycrystalline process to a very small pitch (0.075mm), which makes the optical approach to a single point source, making the LED headlights optically clearer and clearer. The LED headlight component five crystals are integrated through the superconducting process, and the LED component thermal resistance is controlled at (JS) 1.1 ° C / W design to ensure high light efficiency. In addition to the headlights, Yiguang has introduced a number of wattage LED components in its daily daytime running lights. The medium-powered 0.5W~2W products are used in direct-optic optical and surface-light-guided light-guided designs to enhance the dynamics of daytime running lights. design. In the taillight application, in addition to 0.1W~0.5W products, Yiguang also launched 1~2W taillights to apply LED styles. 2W products have high heat dissipation, low thermal resistance is more suitable for application of light guide surface light source design, which gives excellent luminous flux performance. . In addition to the existing silver-plated stent process, the automotive product line also offers a gold-plated bracket product line, which mainly strengthens high-quality and anti-vulcanization properties, enhances the car's high-quality operation while maintaining the product in a harsh environment. Use demanding quality and high performance requirements.
With more than 32 years of experience in the LED industry, Everlight integrates professional R&D, business and marketing teams to provide a complete and comprehensive solution for its various applications.
Yiguang sincerely invites you to visit:
China Electronics Show (Shanghai) 2015
Booth: 2A023
Period: November 11th – 13th, 2015
image: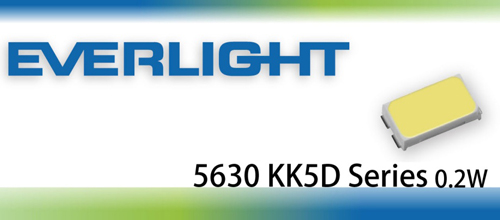 Lighting new ultra-high light efficiency 5630D series (according to customer needs to choose the appropriate packaging structure and product materials)
Data source: Yiguang Electronics
About Yiguang Electronics
Founded in 1983, Everlight Electronics integrates professional R&D, business and marketing teams with more than 32 years of experience in the LED industry. It is customer-oriented and provides a complete and comprehensive solution for its various applications. The product line includes High Power LEDs, SMD LEDs, Lamps, Lighting Components, LED Lighting Modules, Digital Displays, Opto-couplers and Infrared Components. Customers can choose the most suitable package products in Yiguang according to the needs of their own application products, and use the appropriate LEDs to achieve the best efficiency and quality performance of the application products. For many years, with the spirit of "Working together, bravely moving forward, and fighting hard", Everlight has already achieved the top 5 achievements in the global LED market share. Yiguang will continue to develop LED products with more applications and provide customers with various An impeccable product solution to create a win-win future!
To learn more about LED related products, please visit ; news contact:

(This article is based on Yiguang Electronics)

We eliminate tooling costs and save customers money by offering hundreds and hundreds of stock overmolds. For highly customized molded cable manufacturing projects, our advanced technology allows us to produce custom overmolds at a price and quality level that clearly sets us ahead of the competition.
Custom molded wire assembly, overmolded IP67/68 connectors assembling,customized waterproofing cable assembly
ETOP WIREHARNESS LIMITED , https://www.etopwireharness.com