â–¼
Survey: 50% of German teachers are interested in using VR lessons in class from Baidu VR
Digital technology has raised education to a whole new level, opening up new possibilities for teachers and students. Samsung Electronics Germany has explored how these possibilities will help reshape education and create a better tomorrow.
In a recent survey by the German research company Kantar EMNID, they interviewed 606 teachers in schools in Germany to better understand educators' views on the use of new technologies (especially virtual reality) in the classroom.
According to the report, respondents have great interest in using virtual reality. Although only 18% of respondents had used virtual reality in a private or professional environment, and only 4% of schools use the technology, almost one in two teachers (48%) expressed their willingness to try it in class. Among teachers under 30, this number is 58%.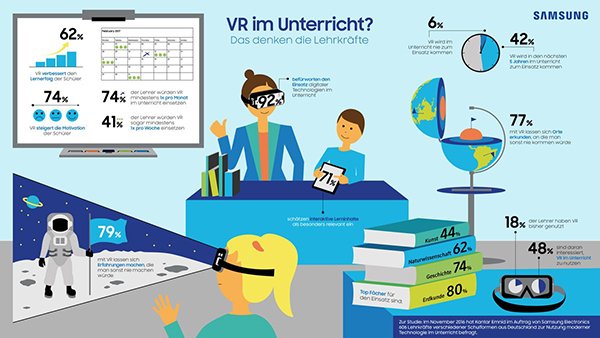 Steffen Ganders, director of public affairs at Samsung Electronics Germany, said: "This survey clearly shows that teachers are very enlightened when they use new media in schools. They recognize the potential of digital technologies such as VR."
It is generally believed that personal experience is more enriching the classroom than reading books and improving students' overall performance. Over two-thirds of the teachers surveyed (79%) agreed that VR can bring about an impossible experience. 77% of respondents believe that VR is the right way for students to explore places that are often difficult to reach.
In addition to improving the educational experience, most teachers believe that using virtual reality in the classroom can increase students' motivation for learning (74%) and improve their academic performance (62%). 58% of educators also believe that using this technology can help students better understand the learning concept. Respondents believe that the most suitable subjects for VR are geography (80%), history (74%) and natural sciences (62%).
Although virtual reality is a very novel technology, almost half of the teachers surveyed (42%) believe it will be used in the classroom in the next five years. If equipment is available, 74% of educators claim that they will use VR at least once a month in the course, while 41% of educators say they will use VR at least once a week.
To better understand the possibilities of these educational VR concepts, Samsung Germany has partnered with Cornelsen, an education publisher based in Berlin. They developed a special educational content to help students visualize the complex physiological processes in the human body. The project was tested by 150 students in Berlin, Lower Saxony and Baden-Württemberg at the end of 2016. ?
Plexi Panels,Plexiglass Panels Lowes,Thin Plexiglass Sheets Lowes,Clear Plexiglass Panels
zhejiang goldcity technology co,ltd , https://www.membrane-gc.com