Yesterday morning, Suzhou Jingtai Photoelectric Co., Ltd. held its opening ceremony. At the same time, the second phase of the capital increase project with a total investment of 1.5 billion yuan was officially signed. Huang Wei, deputy secretary of the Municipal Party Committee of Zhangjiagang City, Jiangsu Province, attended the event.
Shenzhen Jingtai Co., Ltd. is a leading company in the field of LED packaging in China, with advanced manufacturing technology, rich management experience and diversified marketing models. In April 2015, Shenzhen Jingtai set up a wholly-owned subsidiary, Suzhou Jingtai Photoelectric Co., Ltd. in the Economic Development Zone (Yangshe Town), which is engaged in the packaging of SMD LEDs.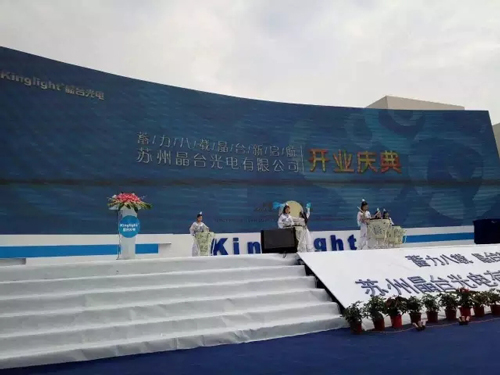 The first phase of the project will invest a total of 1 billion yuan to build 660 fully automatic packaging production lines with an annual output of 54 billion SMD LEDs. The first phase of the project has been completed and put into production. The second phase of the total investment of 1.5 billion yuan, will build more than 1,300 production lines, forming an annual production capacity of 100 billion LED light-emitting diodes.

On behalf of the Municipal Party Committee and the Municipal Government, Huang Wei expressed his congratulations on the opening of Suzhou Jingtai Optoelectronics.
He said that Zhangjiagang is currently at a critical stage of focusing on transformation and innovation drive, and vigorously developing green energy and lighting industry is not only the main direction of transformation and upgrading of the city, but also an important way to promote green development.
He hopes that Suzhou Jingtai Optoelectronics will continue to play the leading role of LED industry technology, continuously expand the market, accelerate development and attract more high-quality projects to settle in Zhangjiagang; Economic Development Zone (Yangshe Town) as one of the leading economic development sectors in the city, Continue to serve the development of enterprises in the region, accelerate the construction of modern industrial clusters and technological innovation demonstration zones, and create a higher level of development platform.
Huang Wei said that the municipal party committee and the municipal government will continuously improve the government's service level and create a rule of law, honest and efficient investment environment and business environment for enterprise development and project construction.

We are famous power factory in china.We mainly offer led switching power supply,dual outpout led switching power,IP67 led power,waterproof led power,IP67 Outdoor Power,IP20 Indoor Power,IP20 led power,Ultra thin led power,outdoor led power etc.They widely use for led strip light,led wall wash light,led
underwater light,led inground light,led spike light,etc.

Ip20 Ultra Thin Hca Power,Ultra Thin Power Supply,Light Box Power,Constant Voltage Light Box Power
Jiangmen Hua Chuang Electronic Co.,Ltd , https://www.jmhcpower.com