The latest version of Maslow's Demand Theory. Below the physiological needs, more important: Wi-Fi needs are added. Then poor, but also have a route!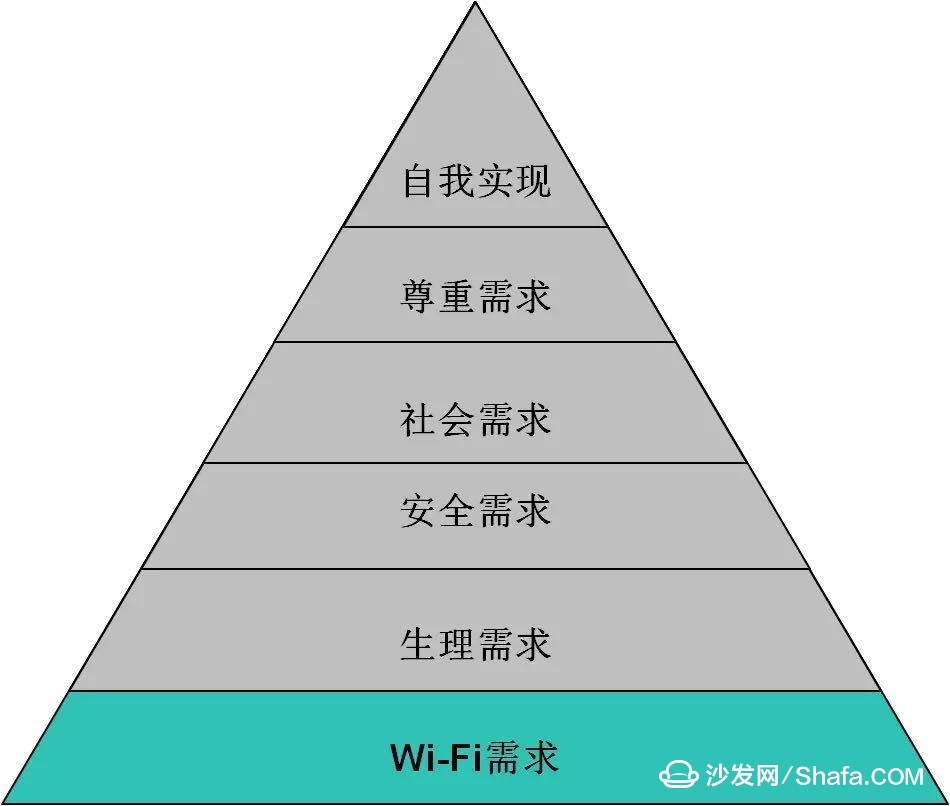 In today's era, routing has basically entered every family, solved the problem of "home Wi-Fi from scratch," and also created new problems. We are not satisfied with "from scratch," and we need to go further. We need "indoor Wi-Fi everywhere."
How to solve this new problem, then we must first look at the reasons for the bad Wi-Fi, after Xiaobian Shen, found that users always complain about Wi-Fi is not good, basically the following four reasons:
1, routing used a long time, not to force;
2, larger units: big three-room / four rooms and above, or even retest / villa;
3, complex types of houses, more corners;
4. During the renovation, additional wire mesh is added to the walls (to ensure that the cement walls that are brushed are not cracked later, especially the load-bearing walls are often added). This kind of wire mesh can easily block the Wi-Fi signal and cause the Wi-Fi signal not to penetrate the wall.
OK, the problem is found, then we have a one-to-one solution:
For the first question:
Everyone changes a route, this action is easy to get, but afraid of a new route, but the problem is still there, it is likely that the following three reasons.
For the next 3 questions:
The phenomenon of the latter three problems is the same. The router's Wi-Fi coverage is always local, routing is changed one after another, and the unit price is also from 200 yuan to 1000+, but it is impossible to achieve full indoor Wi-Fi coverage. .
Some people think: I have changed 1000+, but I still can't. If I do, it seems that there is no way. Some people complain to friends who have a technical background, so that friends can help solve this problem. To this problem, and on-site service, Xiao Bian has thus become a friend of women, ha ha ha!
Today Xiao Bian wanted to share the experience gained over the past few years. For these three issues, there are currently three main solutions (according to the degree of use is recommended):
First, wired relay, network cable effective distance is 100 meters:
If every room in the house has a network port, the network cable can be used: Distributed Wi-Fi can be directly deployed by multiple routes, the main route is dialed, and other network cables are cascaded. This is not limited by the number of cascades. Follow one.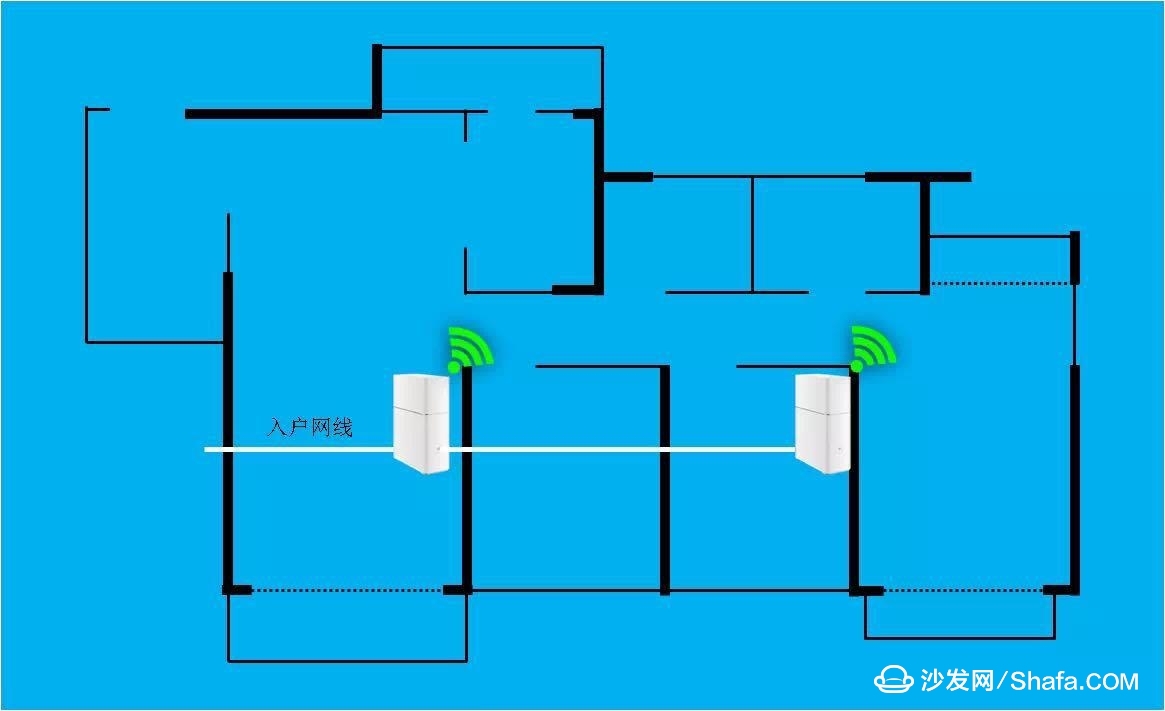 Deploying Distributed Wi-Fi with Huawei A1 Wired Cascading
The reason for choosing Huawei routing is because it is better for wired cascading than other routes. Huawei routers support HiLink's patents. They ensure that the cascading sub-routes are plug-and-play, automatically learn the Wi-Fi name and password of the host route, and secure a set of Wi-Fi in the home. Mobile devices such as mobile phones can also automatically switch connection signals to better hot spots.
Second, the power cat expansion, the effective distance of the wire is 300 meters:
If the room has no Internet access, then it is also a good idea for power cats to expand Wi-Fi. The cable is changed to cable and the socket becomes Wi-Fi.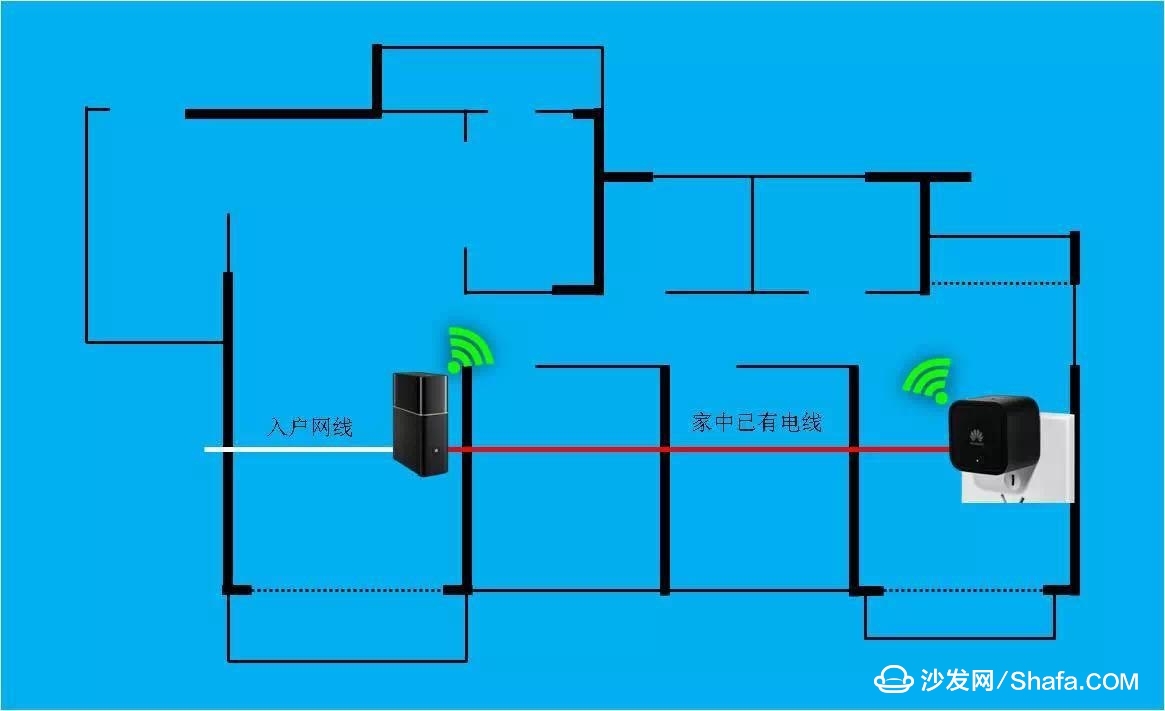 Expand Wi-Fi with the above-mentioned parent-child routing- Huawei route Q1
Huawei router Q1, using its own technology accumulation, has made a completely new definition of traditional power line technology - daughter-to-child routing, which converts network signals into Wi-Fi signals through wire transmission. Support 1 drag 7, so basically a big house is not afraid.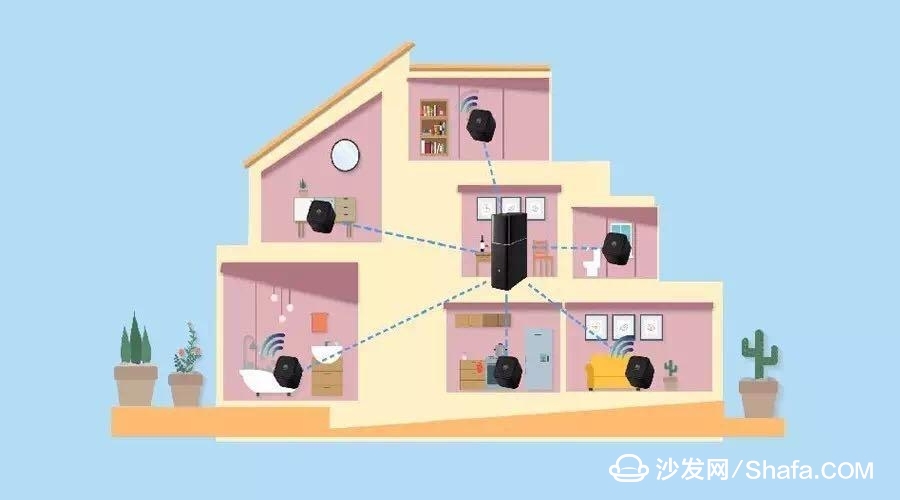 Use multiple sub-routes to extend Wi-Fi coverage
Huawei's routing of this sub-master has a unique advantage over ordinary power cats:
- Sub-routing is plug-and-play, no need to configure, where is the signal is not good to insert
- Sub-routing automatically learns the parent routing Wi-Fi configuration, unifying the Wi-Fi name and password in the home, and the connection does not need to be selected
- Even with multiple hotspots, Huawei HiLink technology can guarantee that mobile phones and other devices will always automatically connect signals with better hotspots.
And these are ordinary electric cats do not have.
Can electric cats be used in their own homes? I think this is a problem that people are very concerned about before they purchase related products. In response to the existing home power line environment in China, Huawei conducted a large-scale investigation and research showed that 98% of home power line environments can use power cats to expand Wi-Fi. Do you worry that you are the remaining 2%? Here, Xiao Bian helps you step by step.

1, electricity cats can not be used across the meter, usually a household meter, so most people do not have to worry about it.
2. Determine if the home is a single-phase electricity (1 fire 1 zero), two-phase electricity (2 fire 1 zero), or three-phase electricity (3 fire 1 zero).
In fact, the electricity from the community to the floor is still three-phase electricity (we here are named A-phase, B-phase, and C-phase for convenience of explanation), but generally only single-phase is given to each household. For example, to balance the entire power supply system, There are 6 households on the first floor, then two households give A-phase, two households give B-phase, and two households give C-phase, which means that the household is single-phase electricity. Generally about 100 square meters of houses are single-phase electricity, and then 200 points more, or duplex because of more appliances, may give dual-phase electricity, and single-family villas may even be three-phase electricity /
How to judge? It is very simple, we can judge by opening the home.
a) Look at the left side of the following diagram. In the case of a two-in-one loop, if the two are linked together, then it is a single-phase power. The home can certainly use the power cat to expand Wi-Fi.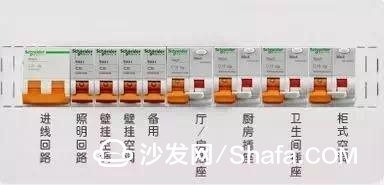 General family home empty open map, the picture comes from the network
b) If it is three together, it is biphase electricity, as shown below: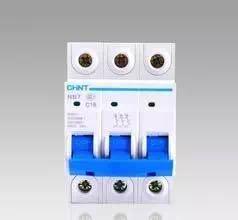 Dual-phase electric circuit, picture from network
In the case of dual-phase electricity, it is necessary to be careful when using a power cat, because a power cat needs a socket and a power cat can be used in a socket of the same phase. Generally, users in a house that has already been installed cannot determine which rooms have the same phase. But don't worry about it. In the case of dual-phase power, nowadays the decoration company is generally a phase for general purposes such as sockets, lights, etc., and power (such as air-conditioner) can be used for one phase. In this case, power cat expansion is also available. Wi-Fi. Can be assured to buy, and now e-commerce support for 7 days no reason to return, it is not up, then return it!
c) If it is four together, it is three-phase electricity, as shown below: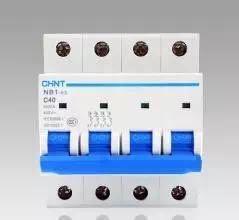 Three-phase electric circuit, the picture comes from the network
In the case of three-phase electricity, it is more necessary to use electricity cats, because only some single-family villas use three-phase electricity. The decoration of the villa is more complicated. If all the outlets in the room are in the same phase, then it is safe to use the power cat to expand Wi-Fi. You can consult related people (such as decoration company) in advance before buying. If you do not ask, you can rest assured that you can buy it. The same reason, you can't use it.
3, different from the cable, the home of a variety of electrical appliances are used in the home of the wire, therefore, the use of electricity cats, there is still a problem of electrical interference, only the electrical wiring on the same loop will produce interference. For example, if the router is in the living room, using a power cat to extend Wi-Fi to the room 1, then only the appliances in the living room and room 1 will cause interference, while the appliances in other rooms will not substantially interfere with the Wi-Fi expansion in room 1.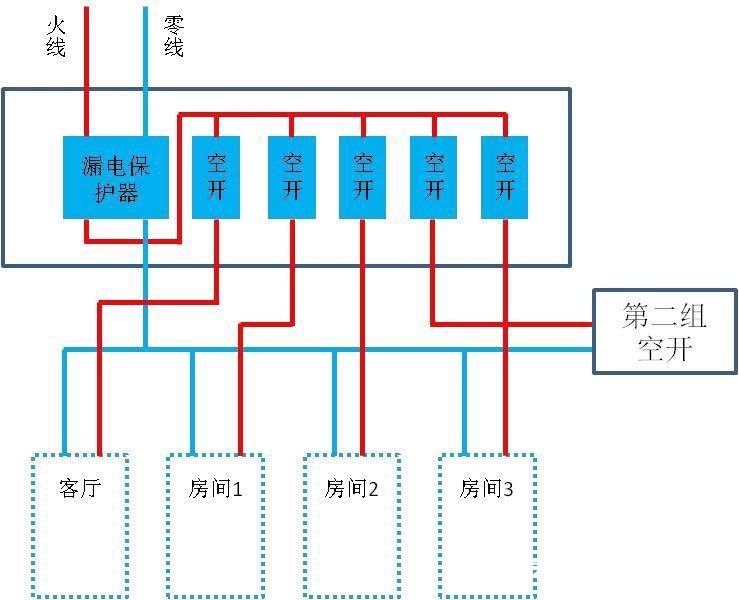 Single phase home general circuit diagram, if there are two sets of open, generally cascaded, equivalent to a group
Which appliances will cause interference? First of all, the brand refrigerators, air conditioners, washing machines, and televisions used at home have passed the national 3C certification and have little interference with other electrical appliances in the power grid. Therefore, they will basically not interfere with the use of electric cats. However, there are no uniform standard certifications for electric bicycle chargers, LED energy-saving lamps, hair dryers, ventilation fans, bathroom heaters, air humidifiers, juicers, and other industries. There are many cottage products, especially cottage products, for electric cats. Performance impact is very great, please note that if you want to use electricity cats, then the home of various electrical appliances to buy the best brand manufacturers, brand manufacturers use it is also safe and secure, is not it.
Third, wireless relay:

There is no network port in the room, electricity cat can not use it, it can only choose wireless relay, wireless relay has less stable disadvantage compared to the former two, and the location of the relay is not very good choice, too far No, too close and no relay effect.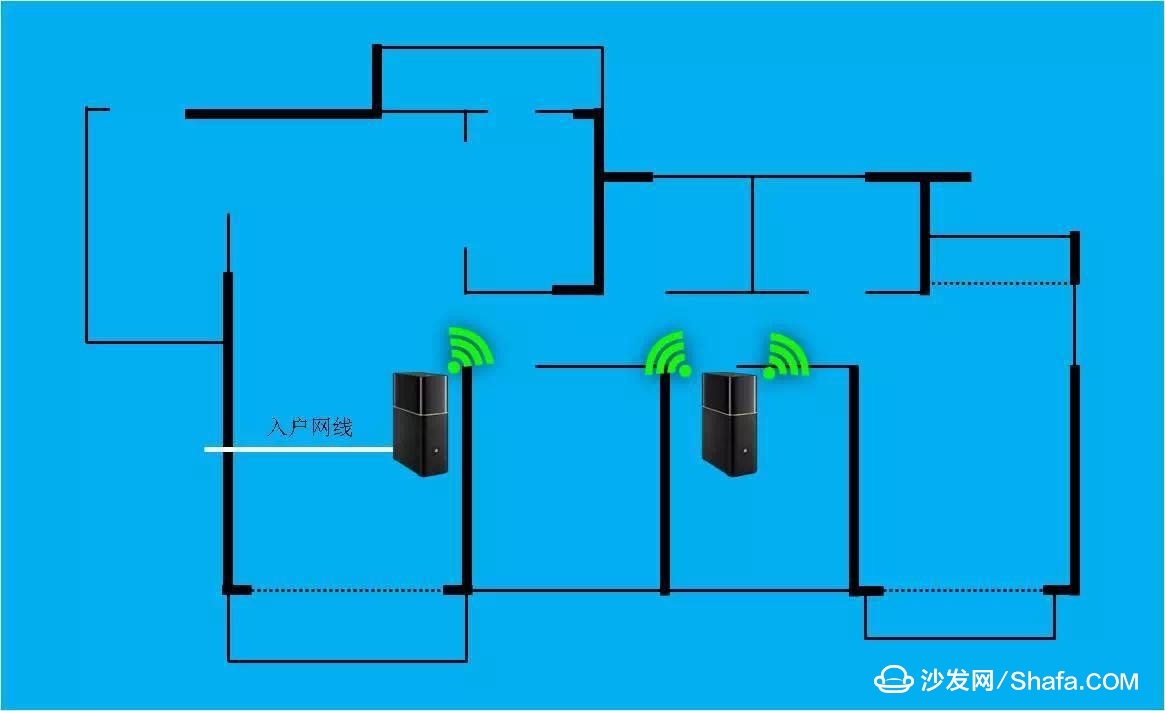 Using Huawei Router A1 Wireless Relay
Why Huawei Routers Do Wireless Relay? In fact, the relay configuration is generally more troublesome. Careful people should see a "Hi" key, and this "Hi" key is to make the configuration of the trunk easier. The sub-route is powered next to the main route, and the main route's Hi light will start. Flashing, press the Hi light, the two routes of the Hi light flashes at the same time. After the light stays on, you can put the sub-route to the relay position.
Just said too far, no, too close and no relay effect, then how to choose the relay position? Teach you a way, you can download a Wi-Fi analyzer on your phone, you can scan the main route signal strength, the signal strength is about -50dBi (about wearing a wall) for the best relay position.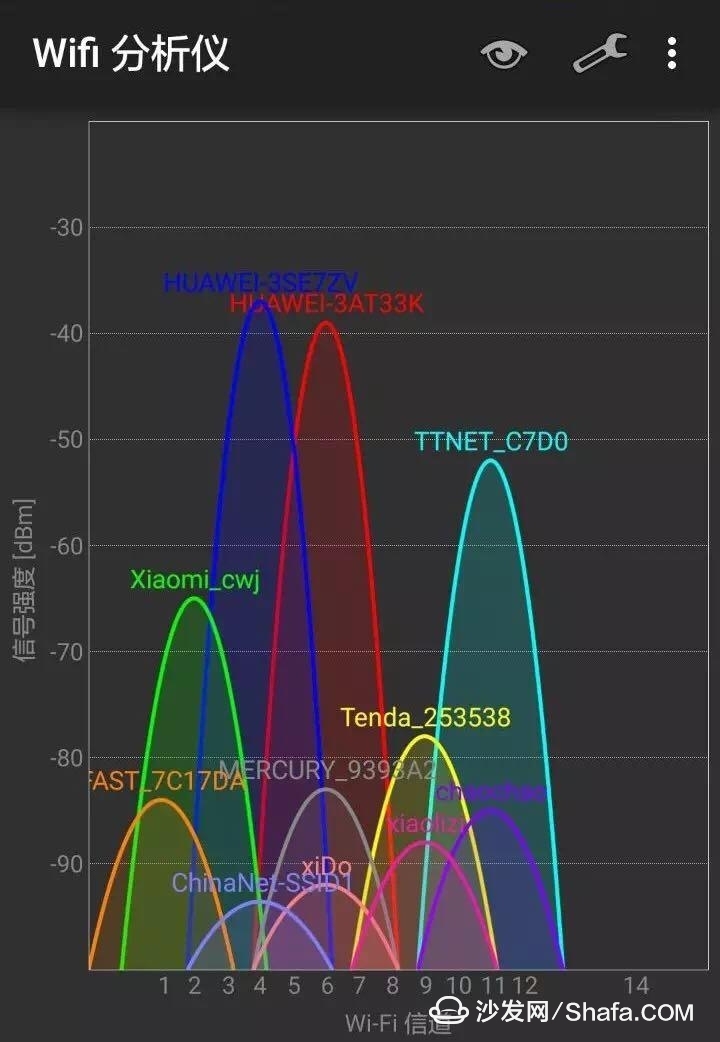 Wi-Fi analyzer scan signal strength interface
Did you feel helpful when you saw this?
Smart TV/box information can focus on smart TV information network sofa butler (http://), China's influential TV box and smart TV website, providing information, communication, TV boxes, smart TVs, smart TV software, etc. Answering questions.
High Voltage Flat Style Resistor
High Voltage Flat Style Resistor refers to SHV RF series which are designed in planner shape. It's widely used in the market for the low TCR & VCR and excellent high-frequency characteristics and high reliability.
Axial Polyester Capacitor,hv divider,High Voltage Flat Resistor,Flat Thick Film Resistor
XIAN STATE IMPORT & EXPORT CORP. , https://www.capacitorhv.com